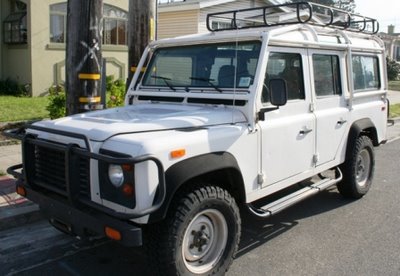 My new automobile. 1993 NAS Defender 110.
Hello, boys and girls.
For the longest time, I have been desperate to own a Land Rover Defender 110. Well, after searching and searching online for these elusive creatures, I decided to give up my hopeless search. You see, Land Rover Defender 110s were only imported to the U.S. in 1993, and only in a limited quantity of 500. Land Rover enthusiasts think of the Defender as the best and most desirable Rover, so, as you can imagine, they are hard to come by. There's lots of collectors out there, and the 110 is often at the top of their list of desires.
The high demand and low quantity make the 110 extremely expensive, even though they are all 13 years old and a little weathered. Even rust buckets with high miles often go for $40K or more on Ebay motors. So, after months of searching, I gave up.
Recently, though, I was on the way home from the PX with my friends, and I saw one of the Aussie or Brit Defenders. I thought, "Man, I still love that vehicle." I got online as soon as I returned to the office, and instead of looking on Ebay, I searched AutoTrader.com. AND I FOUND ONE IN CALIFORNIA FOR A DECENT PRICE!!!
I made an offer, and he accepted, and now I have a Defender 110. Anyhow, I am psyched to get home and meet my new baby. My mom is flyig out this week to pick her up and take her to Boise until I return from here. Just wanted you all to know about my new addition! Yea!
Check out the details:
http://www.airsoftwest.com/defender.html
(Two corrections: the tranny/gearbox/etc. was replaced at 120k miles, not 80k, and it is 439 of 500, not 463.)